On October 10, 2018 our community was forever changed. Like many others, The Eye Center of North Florida was not spared by the wrath of Hurricane Michael. Our main office on Highway 77 took substantial exterior and interior damage. Immediately following the storm, our leadership jumped into action to ensure all our employees were safe and accounted for and then turned their attention to making us available to our patients. (Photo Gallery: Damage to The Eye Center of North Florida October 2018)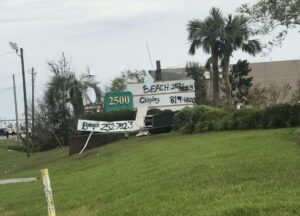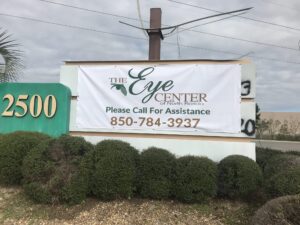 Since our main office took such substantial damage and was going to be under repair for months, we knew our patients couldn't continue to travel to our satellite locations. We had to see patients at our main location. So, on November 12 we started seeing patients in portable buildings at our 77 location. These portable exam rooms allowed us to do full exams, treat eye injuries and infections, and provide care to our neighbors and friends in Panama City.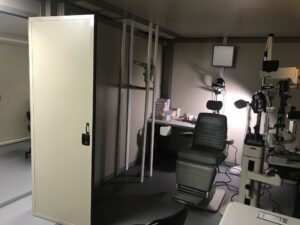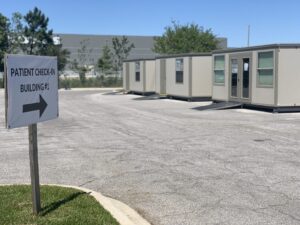 During our recovery, we all had to be flexible and creative on how to continue to provide as many of our services as possible to our patients. Optical and contact lenses were being housed out of our beach office, doctors were rotating between the satellite offices and the portable buildings, and staff were traveling and working where needed. We preformed LASIK in the portables and were then fortunate to have Dr. Smith at Waterside Chiropractic allow us to rent us space in order to preform LASIK procedures for multiple months.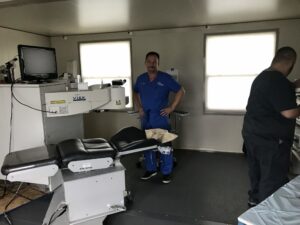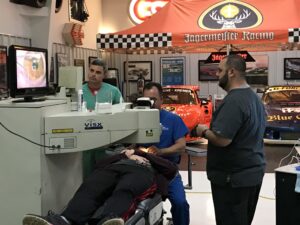 We had many milestones throughout our recovery efforts. We were able to open one exam lane in the building and utilize our surgery center waiting room on January 22. This allowed our surgeons to get our cataract patients ready for surgery in anticipation of our surgical center reopening. On February 15, 2019 we welcomed in the first post-storm surgical patients to our Laser and Surgery Center and were able to resume offering cataract and oculoplastic surgeries to our patients. (For a full timeline of our recovery efforts please see the timeline below.)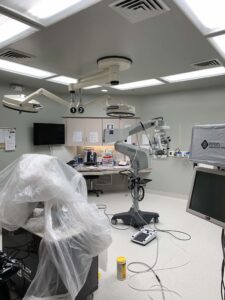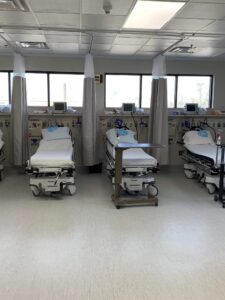 The team at the Eye Center are dedicated individuals, offering unwavering support for our colleagues and community. In February, the staff organized an employee morale event where we also presented the practice owners and office manager with plaques purchased by the employees thanking them for their dedication and support in the aftermath of Hurricane Michael. The inscription on the plaque given to the owners said "In recognition of outstanding employer integrity and loyalty to employees during and after Hurricane Michael." No jobs were lost at The Eye Center as a result of the storm, slight adjustments were made to hours but all employees had employment and benefits, no positions were eliminated as a result of the hurricane.
The citizens and business owners of our community have rallied together and are committed to rebuilding. At the ECNF, we are no different and want to assure our patients that state of the art eye care is still available from the local providers you have grown to know and trust. Following the storm, other eye care providers have closed their doors, but we are still here. We are now the only ambulatory surgery center dedicated to eyes in our area. We are open for business and accepting new patients. We are doing routine eye exams, preforming cataract and oculoplastic surgery, preforming LASIK, and our Optical Department is open.

We are thankful to all our patients that choose us for their eye care needs and we sincerely thank you for your patience as we recover and rebuild better than ever. We are 850 Strong- See What We Can Do Together!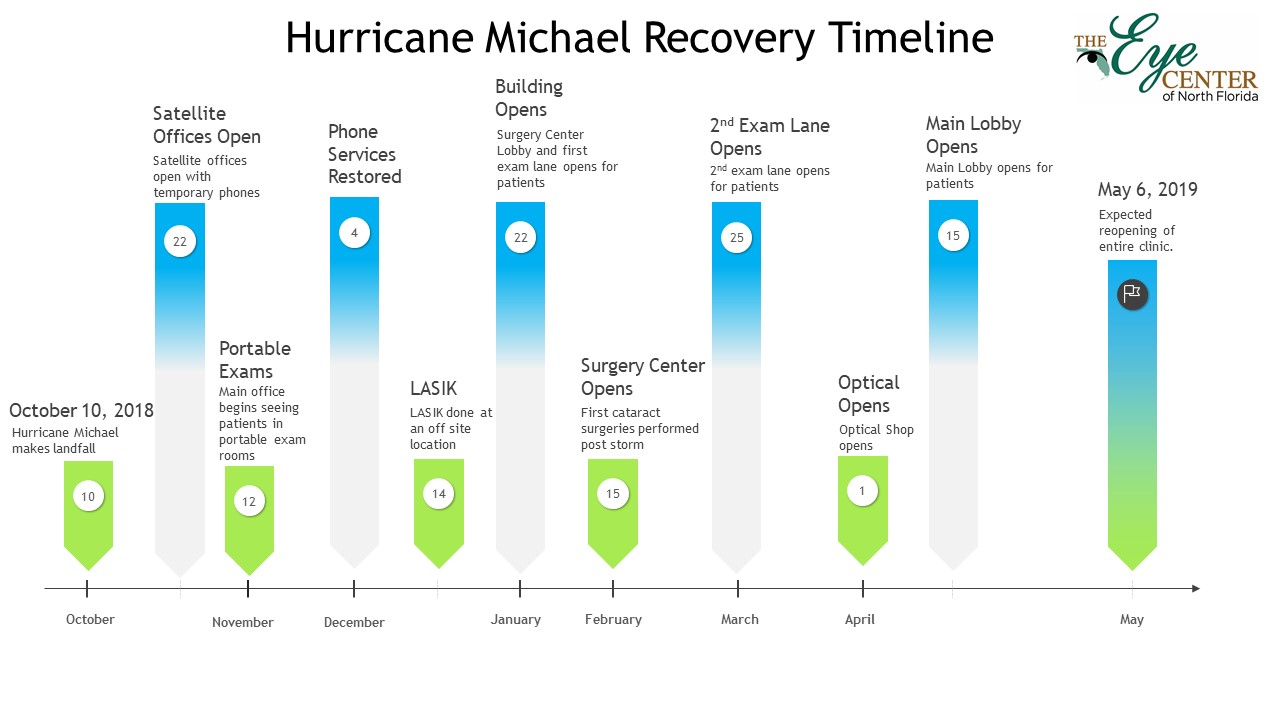 Photo Gallery: Eye Center of North Florida Renovation Photos
COMING SOON- Final renovation photos