By now, it is likely that you, a family member, friend or coworker has experienced the most advanced, state-of-the-art eye care now available right here in Panama City. Although The Eye Center of North Florida may seem like a relatively new company, its roots go back to 1936.
History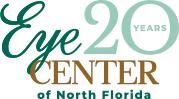 The Eye Center of North Florida was formed in 1999 following the merger of the Newberry Eye Clinic and the Gulf Coast Eye Clinic, two of the oldest, most established and trusted eye care practices in the Florida panhandle. The Newberry group, founded by Dr. Grant Newberry, had a long history of providing comprehensive optometric services and was located at 470 Harrison Avenue. The Gulf Coast Group housed at 211 East 11th Street, was founded in the mid 1950s by Dr. Wager and consisted of ophthalmologists. The two groups worked together to care for patient needs in Panama City.
In 1998, however, it became evident that the strengths and diverse training of the physicians as a whole were better positioned to meet the growing needs of our community. The physicians realized that to create a regionally recognized state of the art eye care facility and surgery center, they needed to create a forward-looking mission statement, and they knew they could better achieve their goals by working together. It was decided to build an Eye Center that had all the optometric and ophthalmologic specialties under one roof to truly provide comprehensive eye care to the community. It would allow the individual physicians to develop their specialties, foster participation in research and development of ocular disease and surgery, and consolidate the combined practice experience of the group to better serve the specific needs of each patient.
Our Doctors
Dr. Aker returned to practice in Panama City in 1981 and specializes in primary eye care and contact lenses. Dr. Edinger has practiced in the city since 1981 and specializes in primary eye care and low vision rehabilitation. He has created a comprehensive clinic utilizing magnifiers and electronic devices to serve the visually handicapped. Dr. Garland joined the group in 2002 and practices general ophthalmology and oculoplastic surgery. He is the only board certified oculoplastic surgeon in Bay County. Dr. Pyne joined the group in 2003 and specializes in general ophthalmology and diseases of the retina and vitreous. He performs all the latest intravitreal therapies for macular degeneration and specializes in ocular therapy. 
Offices & Locations
The Eye Center's primary office is located at 2500 Martin Luther King, Jr. Boulevard. The 25,000-square-foot facility includes a cutting edge surgery center that provides patients with the most modern equipment and procedures available anywhere in the country. They are a state-licensed, Medicare-certified facility that offers patients of The Eye Center of North Florida the ability to have eye surgery in a warm, friendly, affordable environment. In contrast to other surgery centers and hospitals that try to provide a variety of services, the staff at the Laser and Surgery Center concentrates on doing one thing, and doing it with excellence making sure that your eye surgery is a comfortable, uncomplicated experience provided in the region's most up-to-date facility. See detailed maps and directions for each of our three locations.
An exquisite on-site optical service and laboratory offers high-end and affordable glasses that are satisfaction-guaranteed. With more licensed opticians than any other facility in the region, The Eye Center allows patients personal counseling and rapid quality-controlled production of their optical selections. A separate division of full-time specialists dispenses contact lenses, where patients can get replacement lenses via mail or our convenient drive through window.
The Eye Center has three locations to serve our patients. There are more than 120 employees dedicated to the service of eye care. For more information about our surgery center and how we can treat all of your eye care needs, please contact the Eye Center of North Florida in Panama City, Florida today to schedule your initial appointment.