Do you already have an updated prescription and need glasses? No problem, We can update!
Our optical shop and in-house laboratory has a well trained and experienced staff.  We have the areas most Board-Certified, licensed opticians under one roof, who meticulously fit you with glasses, guarantee your satisfaction, and maintain the best quality eye wear possible. We also have a full service contact lens department with.
Same Day Service in Some Cases
Prescriptions Filled – Lenses Duplicated
Huge Frame Selection – Budget to Designer
Huge Sunglasses Selection – Budget to Designer – Regular & Prescription
Specialty Lenses:

Multi-Focal
Dive Masks
Sport Glasses
Golf Glasses
Fishing Glasses
Computer Glasses
Custom Polarized Sunglasses
Safety Glasses
Eyeglass Lenses
Progressive Additional Lenses (PALs) have no lines in them but they do have a clear corridor that is molded or generated in the center of the lens. This corridor runs from about the center of your pupil as you look through the lens to about the bottom of the lens. This corridor changes shape and by doing so changes the power in the lens.
The very first  progressive lens, invented in 1959, was a Varilux lens. Since then, Essilor has led the way in research and development, making Varilux lenses the most recognized progressive lens brand in the industry.
Varilux S Series™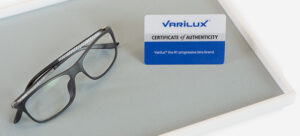 Varilux S Series lenses are the best, most advanced progressives on the market today. Varilux S Series provides all of the benefits of other Varilux lens designs while virtually eliminating the "off-balance" feeling sometimes experienced by progressive lens wearers. Varilux S Series lenses also eliminate distortion and provide greater edge-to-edge clarity than any other progressive lens. Thanks to the patented lens shape and cutting-edge technology, Varilux S Series lenses can help give you more natural vision, helping you see the way you did before you needed progressive lenses.

Crizal

Discover the Crizal® difference
Crizal No-Glare lenses are the market leader of No-Glare (Anti-Reflective) ophthalmic lenses; worn and trusted by over 150 million people worldwide.
Crizal offers a full range of No-Glare lenses for the clearest vision possible and the most comprehensive daily UV protection1. Plus, Crizal lenses have been granted the prestigious Good Housekeeping Seal as a symbol of consumer trust and satisfaction.

Transitions

LENSES THAT MATCH YOUR LIFE
Simply put, Transitions lenses adapt.
They adjust from clear indoors to dark outdoors. But it's not just about light or dark; it's about everything in between. No matter where you are, or what situation you're in, Transitions lenses adapt to the perfect shade so you see with just the right amount of light.

Eyeglass Frame Styles
One of our most popular frame styles is the Silhouette three piece rimless. This frame is extremely light weight making it very comfortable to wear and comes in metal or Zyle material. Customers that are sensitive to the weight of regular frames find this style to be the most compatible for their need and tell us they seem to forget they even have it on. We offer everything from budget to designer brand frames.
Everyday Budget Eyewear Values
           Single Vision  Budget Package
Includes frame and clear plastic lenses with scratch coating
          Lined Bi-Focal Budget Package

 Lined Bi-Focal Budget Package
Includes frame and clear plastic lenses with scratch coating
Progressive Budget Package
Includes frame and clear plastic lenses with scratch coating
Sunglasses
Sunblock never looked so good
Purchase any polarized lens and get the frames for free
Visit our Panama City office for more details
Like our skin, our eyes are vulnerable to the damaging rays of the sun – so everyone needs sunglasses when they are outside. Whether the day is clear or overcast, UV rays can cause short-term and long-term damage to your eyes. We offer brands like Rayban and Maui Jim, as well as many other designer frames.


Sport Eyewear
With our customer in mind, we continue to offer eye wear to meet every need. This includes sport eye wear for golfers, swim goggles, motorcycle glasses, football, basketball, volleyball, soccer, baseball, and cycling. We stock Wiley X, Nike, Switch, Liberty, and Adidas to name a few of the popular brands that we have available with the focus being on safety and quality, giving you the advantage to excel at your favorite sport or hobby.
Safety Eyewear
Wiley X Sunglasses are first and foremost about protection, but that doesn't mean you have to sacrifice style. You can give your eyes the defense they need while looking good.  The removable facial cavity seal blocks wind, debris and peripheral light. Top down ventilation keeps your eyes cool and lenses fog-free.