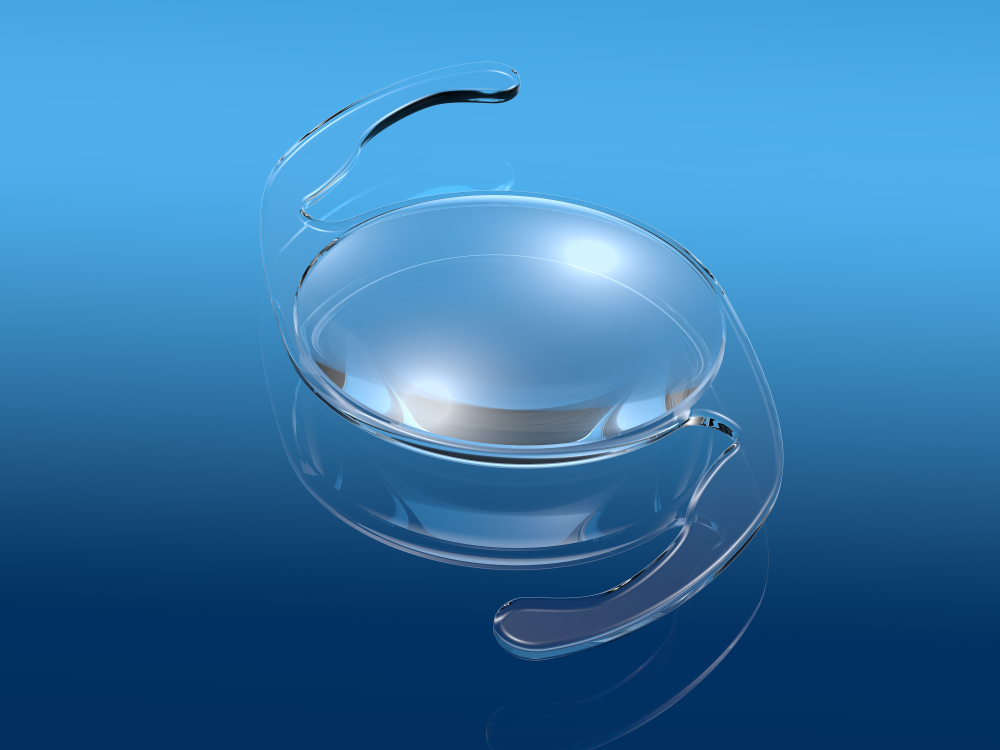 Do you have cataracts that make seeing the world around you more challenging? It may be time to consider cataract surgery and which intraocular lens you'll choose before the procedure.
At Eye Center of North Florida, our team has helped many patients see clearly following cataract surgery.
What is an Intraocular Lens?
An intraocular lens, or IOL, is an artificial lens placed during cataract surgery. It replaces the natural lens to ensure you can see clearly after cataract surgery.
Many intraocular lenses are available, including standard and premium lifestyle lenses. A standard lens is a monofocal IOL with no out-of-pocket cost.
It is the only IOL that most insurance plans will cover. With a monofocal lens, you can see well enough up close or at a distance.
The lens can only correct for one distance, meaning you'll need to wear visual aids to see at other ranges after cataract surgery. A monofocal lens provides only one set focal point, usually for distance vision.
Lifestyle Lenses Offered at Eye Center of North Florida
At Eye Center of North Florida, we offer a variety of premium lifestyle lenses to ensure patients can achieve their visual goals after cataract surgery. These include:
Aperture Presbyopia-Correcting Lens
An aperture presbyopia-correcting lens will allow patients to see with a continuous, clear range of vision, including up close and far away. It corrects not only refractive errors but also presbyopia during cataract surgery.
The premium lifestyle lens uses the power of focused light, as seen in the mechanism of a camera, to provide patients with their best vision. Everything seen is crisp without any blurry zones.
It utilizes a wavefront-filtering design to deliver an extended depth of focus with enhanced adaptability. It is also the only non-toric IOL to help treat as much as 1.5 diopters of astigmatism.
Presbyopia-Correcting Extended Depth of Focus Non-Diffractive Lens
A presbyopia-correcting extended depth of focus non-diffractive lens helps patients see with a continuous range of vision after cataract surgery. It is the first extended depth of focus non-diffractive lens.
The premium lifestyle lens uses X-Wave technology to stretch and shift light simultaneously without splitting it. Because light is stretched and shifted without being separated, it provides patients with a continuous extended focal range while shifting the wavefront to use all available light energy.
Patients see well at a distance while achieving excellent intermediate vision and still have functional sight when looking at things up close.
Presbyopia-Correcting Multifocal IOL
This presbyopia-correcting multifocal IOL provides patients with superior high-definition vision. Its unique asymmetric segmented design helps improve contrast sensitivity, reduce halos and glare, and provides patients with outstanding up close, intermediate, and distance vision compared to other presbyopia-correcting IOLs.
A seamless transition zone in the lens between distance and near segments helps patients see their best.
Extended Depth of Focus and Multifocal Hybrid Lens
The extended depth of focus and multifocal hybrid lens helps patients achieve independence from visual aids. It provides the broadest range of continuous vision, especially when looking at things up close.
It also gives patients excellent contrast and performance in low lighting. Because it's available in a toric model, it's also suited for patients with astigmatism and provides exceptional rotational stability. InteliLight technology reduces starbursts, glare, and halos while ensuring fewer visual disturbances while driving at night.
Trifocal Lens
A trifocal lens is a premium lens that provides patients with excellent vision at all distances, including up close, in between, and further away.
Patients achieve crisper, clearer vision no matter what they are looking at with a trifocal lens. They also report that colors seem more vibrant, with most reducing their dependence on visual aids after cataract surgery.
Few visual aberrations like halos, glare, or starbursts typically occur with a trifocal lens. These are more common in a premium lens like a multifocal lens.
Astigmatism Correcting Lenses
Some patients with cataracts may also need to correct astigmatism during cataract surgery. Astigmatism-correcting IOLs help minimize the need for glasses to see at a distance after cataract surgery.
It's usually recommended that patients with astigmatism use the LenSx laser during cataract surgery. The laser helps correct astigmatism by reshaping the cornea, which can reduce or eliminate the need for visual aids after cataract surgery.
For mild astigmatism, this is helpful, but for more severe cases, a toric IOL and using the LenSx laser may be more beneficial. Toric lenses are the only IOLs specifically designed to correct astigmatism, and many premium lenses come in a toric model.
---
Learn more about IOLs by scheduling an appointment at Eye Center of North Florida in Panama City, FL, today!
---
Related Pages