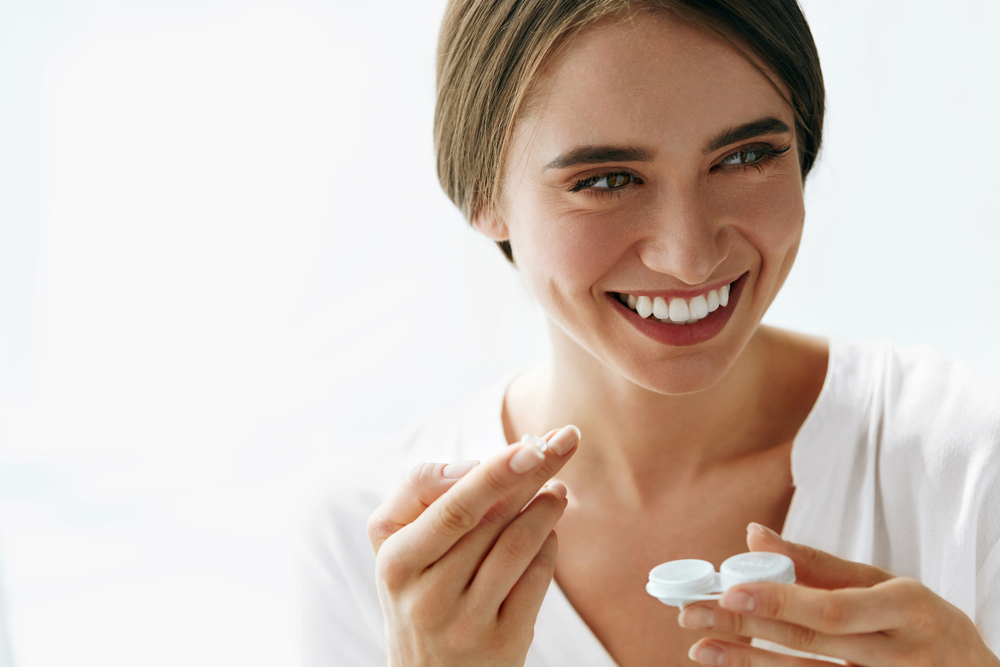 Soft contact lenses are made of a soft polymer-plastic material combined with a percentage of water. Water allows oxygen to pass through the contact lens material and increases comfort.
Many soft contact lenses also provide UV protection. Soft contact lenses are more comfortable than rigid gas permeable contact lenses when first inserted into the eye.
Many soft contact lenses are disposable and can be thrown away after a short period of use. Being able to have a fresh pair of soft contact lenses means less chance of infection, less cleaning, and more comfort, especially for people whose eyes naturally produce more protein which leaves deposits on the contact lenses. Other soft contact lenses are worn on a yearly basis and are not disposable.
While most people choose soft contact lenses because of their benefits, there are also some disadvantages. Soft contact lenses easily absorb pollutants like lotion or soap from your hands, which can irritate your eyes. Soft contact lenses are also more fragile than hard contact lenses and can rip or tear easily.
The most recent types of soft contact lenses to hit the market include:
Daily Disposables. These soft contact lenses are only worn for one day and then thrown away. The benefits include not having to clean your contact lenses on a regular basis, convenient replacement schedule, and reduction of dry eye and irritation related to contact solutions. If you are an allergy sufferer, these are the contact lenses for you.
Silicone Extended Wear Disposables. These soft contact lenses are made with a new silicone hydrogel material that can be worn for up to 30 nights and days. The new material also prevents deposit build up and reduces dry eye irritation.
Hybrid Contact Lenses. Hybrid contact lenses combines a GP (or "hard" lens) center and a soft skirt to give you the clear, crisp vision of a "hard" lens and the comfort and ease-of-wear of a soft lens. The Revolutionary SynergEyes contact lens allows patients to enjoy the best of both worlds – a stable, rigid center with high oxygen permeability that delivers consistently crisp vision and the all-day comfort of a soft lens provided by the soft outer skirt. No other contact lens currently offers these advantages to patients in the vision-correction market.
Scleral contact lenses. Finally, there is something new that brings hope for patients with corneal irregularities that have tried everything, or have corneal pathology advanced enough that standard advanced fitting techniques offer only marginal success.
Paragon CRT
Paragon CRT is a specially designed therapeutic contact lens that gently and temporarily reshapes the cornea while you sleep. Through intense research and clinical testing, Paragon CRT had been FDA approved as both safe and effective for patients of all ages when worn during sleeping hours. The results for you are great vision 24 hours a day – without the lenses during waking hours and while they are in at night – with correction of myopia (nearsightedness) and myopia with astigmatism.
The Eye Center and David Edinger, O.D., are proud to announce this revolutionary new technology that is now performed in the North Florida area. It is only available in a few locations nationwide and is a direct competitor of the Boston Pro Lens. This new and unique technology is called the EyePrint Pro Prosthetics. It is an optically clear shell design prosthetic sclera cover that is directly molded to the patient's eye, allowing to match the exact contour of the eye, providing the best vision and most comfortable fit possible.
Now we can fit just about any complicated ocular irregularities with precision. The latest 3D scanning provides an exact match to each individual cornea and sclera. The material has high oxygen permeability with the ability to finally utilize prism at any position (there is no rotation).
"This is a comfortable and gentle process which was performed on my eye at AVT Technologies in Colorado. It works, in my opinion, much better than the Boston Pro, due to the precision of the custom mold that is made and is much more cost efficient." – Dr. David Edinger
Treatment is covered by many insurance companies and financial assistance is available to those who qualify, through Care Credit.
The EyePrintPro will benefit anyone needing visual correction, ocular protection, relief from pain or wanting to maximize their vision, comfort, and corneal health.
The lens provides optical corrections for conditions such as:
Keratoconus
Pellucid Marginal Degeneration
Post LASIK Ectasia
Post RK Distortion
Corneal Transplants
High Myopia / Hyperopia
Ocular Protection and Comfort are achieved for conditions such as:
Corneal Exposure
Corneal Scarring
Corneal Dystrophy
Corneal Degenerations
Ocular Surface Disease (Dry Eye)
Neurotrophic Keratitis
Chemical Burns
Steven Johnson Syndrome
Limbal Stem Cell Deficiency
Scarring
High Wind and Dust Environments
Pterygium
Pinguecula
Graft Vs. Host Disease
To schedule a patient consult, Please call our main number and let our receptionist know you are needing a consult with Dr. Edinger for the EyePrintPro.
Any physician wishing to refer a patient to Dr. Edinger for this service, but would like to discuss the patient prior to booking, please contact Jennifer Reale, Marketing Director and Physician Liaison [email protected]
Our drive through window makes picking up your order easy, but if you'd rather you can order them from us online.
---
Related Pages