EyePrint Pro™ Prosthetics
Finally, there is something new that brings hope for patients with corneal irregularities that have tried everything, or have corneal pathology advanced enough that standard advanced fitting techniques offer only marginal success.
The Eye Center and David Edinger, O.D., are proud to announce this revolutionary new technology that is now performed in the North Florida area. Dr. Edinger has been selected as one of only six Specialty Contact Lens Practices to offer the EyeprintPRO™ prosthetic scleral shell to our patients. The EyePrintPRO™ prosthetic scleral shell offers tremendous hope for patients who suffer from highly irregular corneas. It is an optically clear shell design prosthetic sclera cover that is directly molded to the patients eye, allowing to match the exact contour of the eye, providing the best vision and most comfortable fit possible.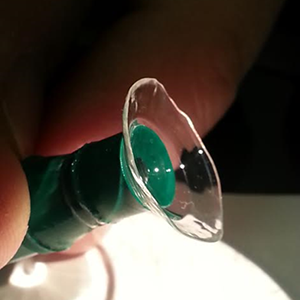 Now we can fit just about any complicated ocular irregularities with precision. The latest 3D scanning provides an exact match to each individual cornea and sclera. The material has high oxygen permeability with the ability to finally utilize prism at any position (there is no rotation).
"This is a comfortable and gentle process which was performed on my eye at AVT Technologies in Colorado. It works, in my opinion, much better than the Boston Pro, due to the precision of the custom mold that is made and is much more cost efficient." – Dr. David Edinger
Treatment is covered by many insurance companies and financial assistance is available to those who qualify, through Care Credit.
The EyePrintPro will benefit anyone needing visual correction, ocular protection, relief from pain or wanting to maximize their vision, comfort, and corneal health.
The lens provides optical corrections for conditions such as:
Keratoconus
Pellucid Marginal Degeneration
Post LASIK Ectasia
Post RK Distortion
Corneal Transplants
High Myopia / Hyperopia
Ocular Protection and Comfort are achieved for conditions such as:
Corneal Exposure
Corneal Scarring
Corneal Dystrophy
Corneal Degenerations
Ocular Surface Disease (Dry Eye)
Neurotrophic Keratitis
Chemical Burns
Steven Johnson Syndrome
Limbal Stem Cell Deficiency
Scarring
High Wind and Dust Environments
Pterygium
Pinguecula
Graft Vs. Host Disease
To schedule a patient consult, Please call our main number and let our receptionist know you are needing a consult with Dr. Edinger for the EyePrintPro.
Any physician wishing to refer a patient to Dr. Edinger for this service, but would like to discuss the patient prior to booking, please contact Kristina Williams, Marketing Director at [email protected]
---
Related Pages